How chiropractic can help prevent common hockey injuries
Whether you're in the big leagues or little leagues, or just going for a recreational skate at an outdoor rink, hitting the ice can have some unintended consequences, like knee injuries, neck sprains, or shoulder dislocations. Chiropractor Dr. Jason Dick has been the practitioner for the Calgary Hitmen since 2006, and in that time, has seen first-hand the benefit chiropractic has on keeping players in the game.
Who's at risk of an on-ice injury?
"The more time we spend on the ice, the less easily our body bounces back from injury. When injuries occur in little leagues, they usually take much less time to right themselves, as they have experienced less repetition in their movements. It's when you're looking at the big leagues, where players have been on the ice for years, where repetitive strains and injuries begin to really hinder a player," explains Dr. Dick.
"A few years ago, I witnessed a player who hadn't realized he'd been experiencing breakdown due to repetitive strains until he turned on the ice and blew his ACL. No one had touched him, but the strain had become so bad that all other stabilizations in his knee failed, and the smallest movement, which he had done numerous times without issue, benched him and left him with a long road to recovery."
Regardless of what level you're playing at the tips below can help prevent injuries and keep you on your skates.
How does chiropractic help prevent injury on the ice?
"Head trainers understand the importance and benefit of routine adjustments and have begun incorporating chiropractic into their team's injury prevention plan," explains Dr. Dick.
Before a game, Dr. Dick visits players at the rink and assesses any lingering issues they're having so they can play the game pain-free and minimize the risk of injury.
Dr. Dick says, "Injuries happen because of player's repetitive movements. Every time a movement is done it causes further breakdown of the joints. To prevent injury from occurring, we need to interrupt this breakdown—that's where chiropractic comes in."
In adjusting a source of repetitive strain in a player, potential issues can be caught and eliminated before they become full-blown injuries, leading to time off for recovery and restoration. Because players are so used to these movements, many don't even realize when a problem is building, which is why routine adjustments are so important for these players—it restores function and movement to areas that are struggling before an injury even presents itself.
What kind of injuries do hockey players experience?
"While all players are susceptible to any injury, the way a player moves will impact the injuries they incur," Dr. Dick explains, "A goalie is not likely going to have the same repetitive strain injury as a winger."
Goalies
Because of the repetitive nature of dropping to their knees to block shots, goalies tend to present with groin and hip injuries or strains.
Defencemen
Defencemen are constantly being hit, jarred, or bounced into boards, so they predominantly experience collarbone and shoulder injuries.
Forwards
Forwards experience open-ice hits, and transition their movements quickly at high speed, which can lead to knee injuries. They can also experience repetitive hip injuries from taking face-offs.
How to prevent injury on the ice
By doing these four core exercises before a game, you can decrease your chances of suffering an injury on the ice. Not only will these exercises help loosen your muscles, if you experience pain while performing any of them it can be an indication of a forming problem, which your chiropractor can assess before the game and treat as needed.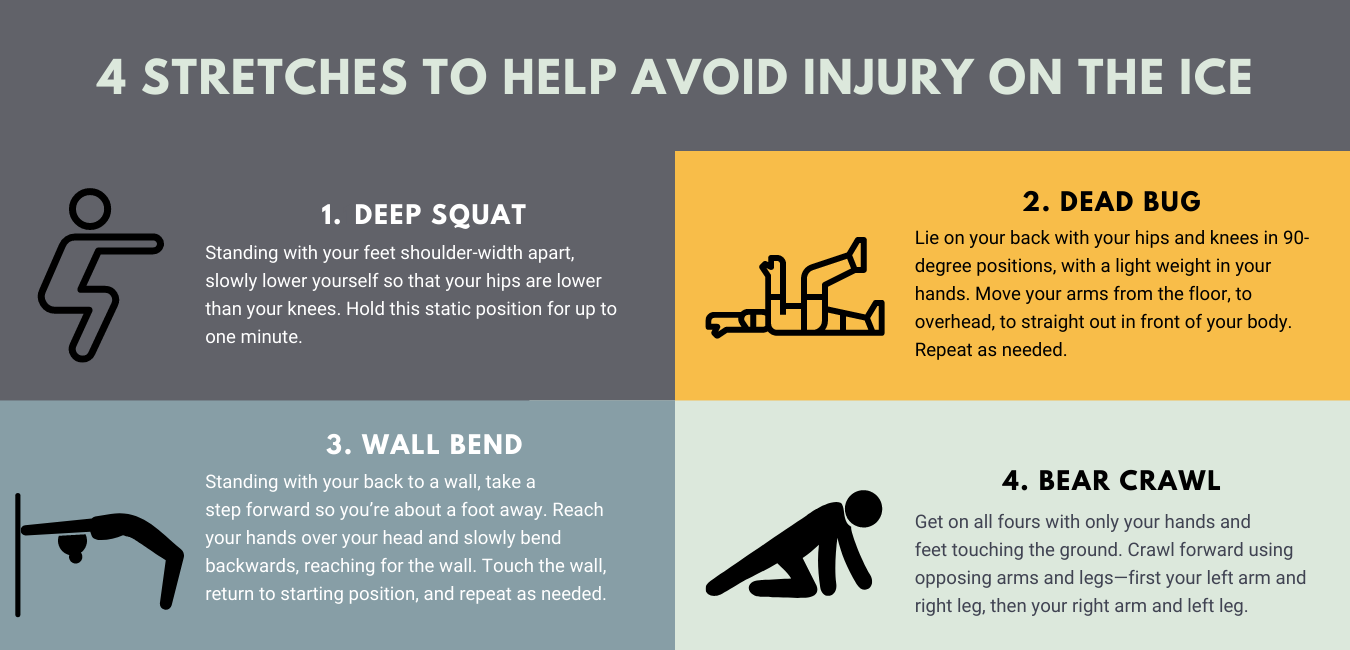 Whether you're just starting out or have been playing for several years, it's important to have a strong injury prevention plan in place. Regular chiropractic adjustments will interrupt repetitive strain injuries before you even notice them.
Sports and physical training are deconstructive. Reconstruction through adjustments restores movement and allows everyone to play their best game.
---
Originally posted on: https://albertachiro.com/ACAC/Chiropractic_in_Alberta/BLOG/How_chiropractors_can_help_prevent_common_hockey_injuries.aspx

Posted on: January 18, 2021Alberta College and Association of Chiropractors