Graston
Graston Technique is a therapeutic method which uses instrument assisted soft tissue tools for treating disorders of the skeletal muscles and related connective tissue.
The stainless steel tools of particular shape and size are used by practitioners to palpate patients' bodies in order to detect and resolve adhesions in the muscles and tendons.
Please click here to view the outcome data on specific conditions treated using the Graston technique.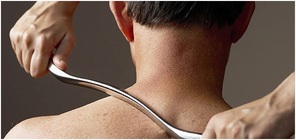 CALL TODAY AND BOOK YOUR APPOINTMENT
(587) 316-6288