Chiropractic: part of an integrated health-care team that puts patients first
Needing to keep your body and joints feeling good, functioning well, and protected from injury are all things Albertans are aware of. But what about the extra issues for folks who ride in rodeos, run the chuckwagons, or farm or ranch? How do they keep up with their rigorous, demands of their life's work? The answer may surprise you – teamwork!
"In the health-care profession, we call that an 'integrated care approach,'" explains Dr. Blaine Bugg, an Alberta-born and bred chiropractor who treats patients out of his Calgary-based clinic, who is also the President of the Canadian Pro Rodeo Sport Medicine program.
Founded in 1983, the Canadian Pro Rodeo Sport Medicine Team (CPRSMT) is a group of dedicated caregivers who are passionate about the sport of rodeo and the western way of life. From four volunteers in 1983 the team has grown to over 50 caregivers that provide a variety of care and treatment to pro rodeo and chuckwagon athletes at events like the Calgary Stampede, Professional Bull Riders competitions and other Canadian Pro Rodeo Association events across Canada – all told, about 180 performances each year.
The Team consists of over 50 practitioners in the disciplines of athletic therapy, chiropractic care, and massage therapy that provide on-site attention to rodeo athletes. The Team also educates and enables competitors to better care for themselves and their injuries, to ensure they get the most out of their lives and rodeo careers. The CPRSMT also includes a curated network of physicians, sport medicine physicians, and orthopedic surgeons providing post injury care to rodeo competitors.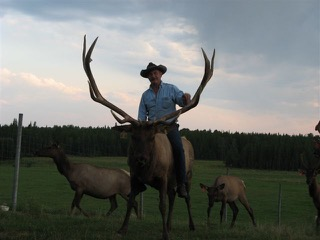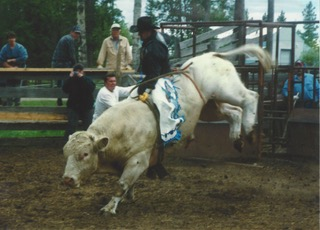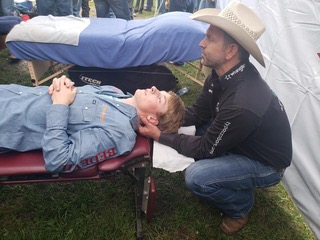 What is integrated care?
Typically, when you visit your health-care provider, whether it be a chiropractor, massage therapist, doctor, or other practitioner, they will conduct an assessment and recommend care based on their findings. In a fully integrated approach like the one used at the Sport Medicine program, the assessment is conducted by a number of practitioners before a treatment plan is even established. This way, patients can feel confident that every area that needs attention is being looked after by the correct specialist.
This is the main advantage for the patient in an integrated approach to care. Rather than practitioners working independently to care for your injury, they come together to provide their expertise for each individual element of the injury which necessitates greater focus on the person's needs and care. They all work together in a coordinated fashion, sharing relevant medical information, and sharing responsibility for positive patient outcomes.
Why is integrated care important?
An integrated approach to care sees the value that each discipline brings to the table. It eliminates the separation between disciplines, encourages a multi-faceted approach, and provides patients with more fulsome care.
Dr. Bugg explains, "sometimes I evaluate a patient and recognize that I am able to help, and other times I recognize that I will only be getting in the way of their care and it would be more impactful to refer them on to another practitioner."
Integrated care means patients are always put first.
Who is integrated care for?
For practitioners in the Sport Medicine program, which on average does more than 4,000 treatments each year, 40 per cent of their patient base is coming in for preventative maintenance, not rodeo accidents. Dr. Bugg explains, "It's not just injuries we see—some athletes come in before competing because they've been driving in a truck or car for 10 hours to get here."
It's not just rodeo athletes that benefit from preventative, integrated care—we all do. By routinely seeing a team of practitioners that seamlessly work together, you can be confident you're receiving the most appropriate and targeted care from the right source.
How do I know if my provider follows an integrated approach?
Knowing if your health-care provider follows an integrated approach is as simple as asking.
You can have this conversation during your first appointment, or even before you select them as a provider. When you go see your family doctor, you should have confidence that they have a network of colleagues that specialize in other kinds of care.
Remember—as the patient you are entitled to ask these questions and know that your care is a priority.
If you want to hear more about Dr. Bugg, check out his recent feature on the WPCA podcast, done in partnership with the ACAC.
---
This article originally appeared on: https://albertachiro.com/ACAC/Chiropractic_in_Alberta/BLOG/Chiropractic__part_of_an_integrated_health-care_team_that_puts_patients_first.aspx

Posted on: April 21, 2021Alberta College and Association of Chiropractors